Retractable Swimming Pool Enclosures -
Testimonials
JM – Chalfont
"The adventure story of our first wanting to be able to use the new pool we were planning for more than 4 months a year, began on the internet. We made the choice to cover it, then we looked to see who made a cover with the most advantages.
One day when I arrived home from work my wife informs me, "I think I found a cover we will both approve of." When I went to the web site she gave me it did not take long to see why COVERS in Play had some real advantages.
1st. We could open the COVERS in Play unit to enjoy the warmer seasons as you would with an uncovered pool. Plus as we found out one day our grandson had a birthday pool party on a Summer afternoon and we had the cover fully open. Sixteen 6-11 year olds were in the pool and the parents were sitting around the pool talking and snacking. Well a Summer storm rolled in, I just closed the cover up tight. When the thunderstorm hit, the pool party didn't miss a beat. The parents were amazed, pouring down rain, wind blowing and all safe and secure inside.
2nd. As the weather started to cool at night we wondered what it would be like inside the pool Enclosure. Well during the day with the sun on the room, it warms up nicely inside helping cut the heat loss to a minimum. We also use a thermal cover that rolls up into the deck storage space at the end of the pool.
3rd. Being a techy type, when I was talking to the COVERS in Play people I asked what wind loads was this designed to withstand? I Was told 100 + MPH winds. Well little did we know that we were going to be visited by "Sandy" in Late October. We got those 100 + MPH gusts and steady 85-90 MPH winds for over four hours. Worst hurricane I ever experienced here in SE Pennsylvania. Next morning on close inspection our middle movable section had 3 of the jockey wheels that run on an extruded track got forced off the track. That was the sum total of the storm. Was all corrected in a couple hours by a local contractor that does work for COVERS in Play. Our experience has been all positive with the Cover and we are very happy we chose an opening Cover, it really makes the pool really enjoyable in all seasons."
VT- Chalfont
My company Tulio Group provided site preparation and installation labor for the project in Chalfont Pennsylvania during the spring of 2012. I found COVERS in Play retractable pool enclosure system a great product. Their quality workmanship, site requirements and assembly and installation procedures were easy to work with and very well detailed. The pool enclosure was approximately 25' x 63' and required approximately two weeks to complete. The Tulio Group supplied four men to assist COVERS in Play with installation of the structure. The project was coordinated and commissioned by an on-site COVERS in Play technician who was organized, well informed and competent in his work.
I would recommend COVERS in Play to anyone looking for this type of architectural product. The overall professionalism of COVERS in Play exceeded our expectations and I look forward to working with them again in the future.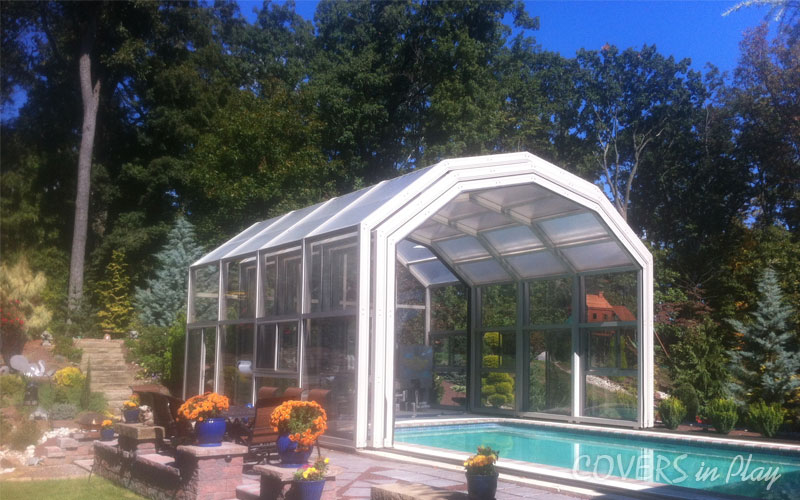 LU – Vaughan
"We thought we would not be able to get something like this made to attach to our house. But, COVERS in Play found a way and now we go straight from inside the house to the pool enclosure without having to step out into the winter. It's great. No need to go south for the winter now."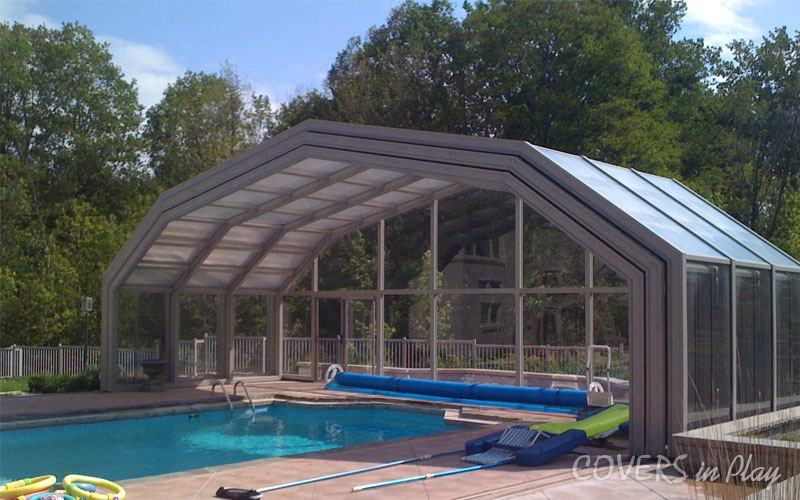 PT - Moose Jaw
"We have allowed a few prospective buyers to come out and view the retractable pool enclosure and have hosted quite a few parties showing off the enclosure... Which has sparked quite a bit of interest.."
FP – Milton
We had a COVERS in Play heated pool enclosure installed two years ago because we saw no point installing a pool to only swim for 12 weeks a year given our climate in Canada. With the enclosure we are able to swim all year round.
"I do really enjoy swimming in the winter!"
PL – Austin
"I really, really want to be "a representative" for your company, and share the building with others and get you more customers. You know the importance of keeping customers happy."
PW – Sharon
"We have enjoyed the pool and enclosure for years now and everyone loves it. COVERS in Play, your system is wonderful."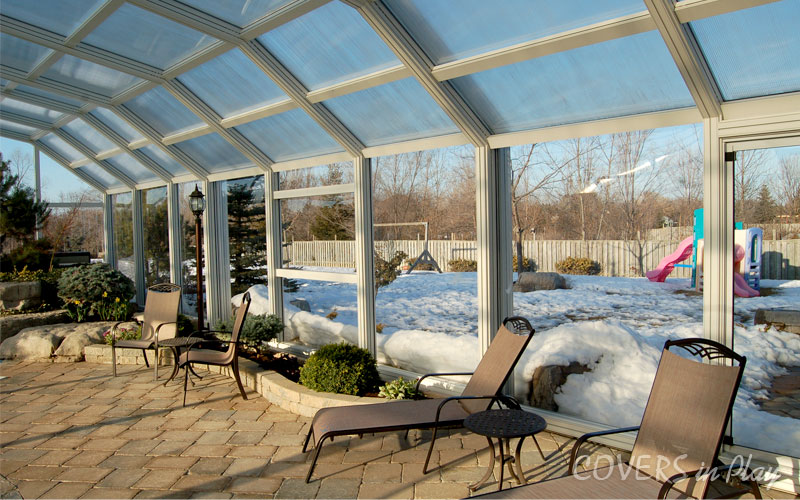 RA – Verona
"My wife and I could not be more pleased with our decision to go with a COVERS in Play structure. After spending months researching indoor pool enclosures we decided to go with COVERS in Play because it didn't quire an expensive HVAC system. Trusting a company out of the United States was a little bit of a leap of faith but we aer so glad we did. Everyone involved with our process was professional and caring. The attention to detail is truly incredible. We look forward to enjoying our pool year round with COVERS in Play!"
EO - Verona
Eroconcept was the general contractor for the homeowner and worked on excavation, foundation, enclosure assembly, and attachment to existing structure. We had a very tight schedule to work with and everything went like clockwork, even with a couple of adjustments needed on our part.
The delivery of the retractable pool enclosure was on schedule and well packaged with no damage. We had a couple panels that were cut too short, but COVERS in Play did an amazing job to get new panels delivered in just 2 days. We were able to move forward with other aspects of the install with no time lost overall. Very impressive.
The structure we installed took about 360 man hours with the electrical work included. We had 420 hours budgeted for this project. We had the enclosure finished in 2 weeks.
The ability to open the pool enclosure is definitely the most amazing feature. From a contractor point of view I love the engineering ease of installation.
We had a great time working with CIP. The support was topnotch and a fun project. I would definitely recommend COVERS in Play to any of my customers and associates.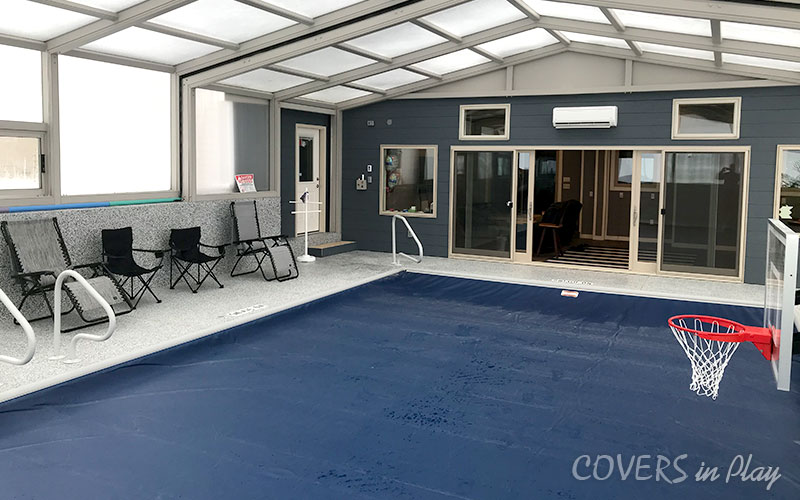 EA – Markham
Last year we contracted with COVERS in Play to build a fixed enclosure system for our outdoor patio area and also to design and build additional windscreens for the deck area above. It was completely custom designed and fitted to our architectural plans. I am pleased with the end results and COVERS in Play's attention to the quality of the product.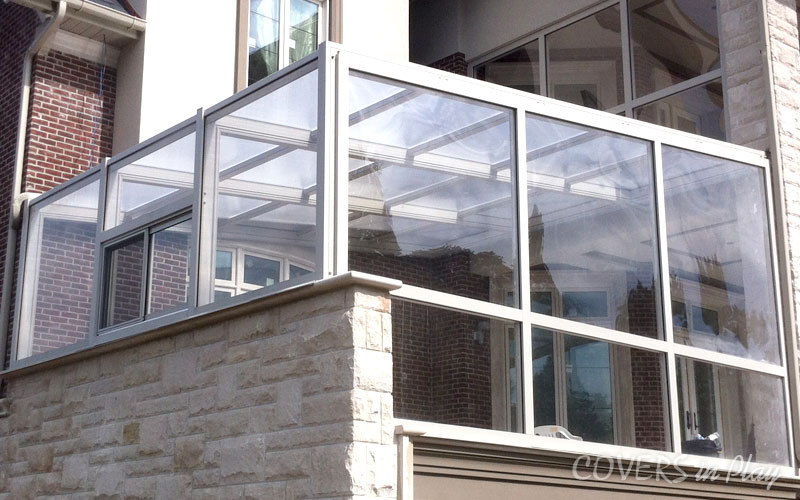 MG- Port Perry
Durham Pools installed a San Juan Fiberglass Pool and a pool enclosure for a client in Port Perry, Ontario in 2012/13. We partnered with COVERS in Play for this project, and found their drawings and site work exemplary. We supplied four men for about two weeks to assist their technician assembly the 1200 square foot pool enclosure.
The product was of a high standard and the Coves in Play Technician was very professional in his approach as well as knowledge in their product.
We enjoyed working with COVERS in Play and have offered to erect their installations in the future.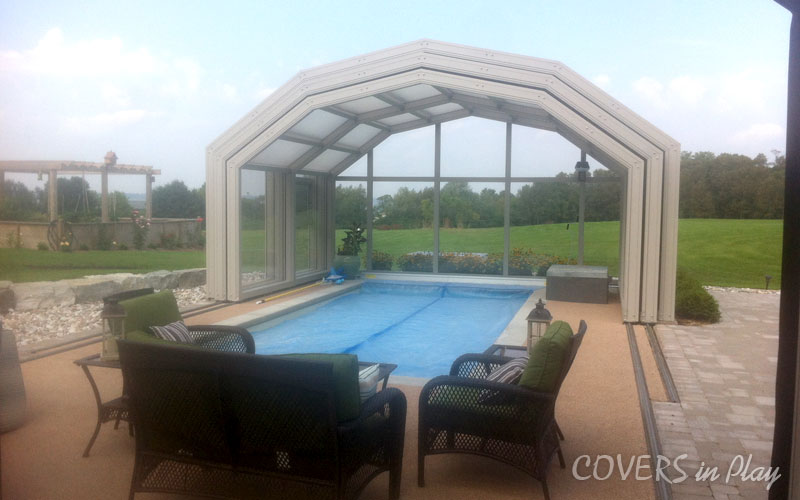 SM- Brampton
Seaside Pools installed a swimming pool in Brampton last February 2013 with COVERS in Play swimming pool enclosure system. It is a fairly simple system to build and install and we helped the technician complete the installation in roughly two weeks of our time with 4 men. The retractable pool enclosure is roughly 1500 square feet. It is a hign end product and very well made, which we have recommended to several of our clients.
We enjoy working with COVERS in Play and anticipate working with them on an ongoing basis.
LM- Mesa
We want to thank you for helping us build this wonderful pool enclosure over our pool. We are very pleased how all was well coordinated and the finished product is more than we expected.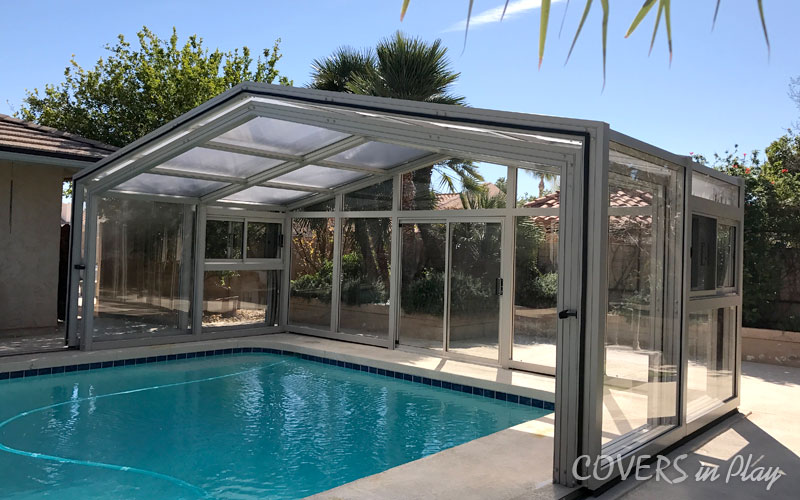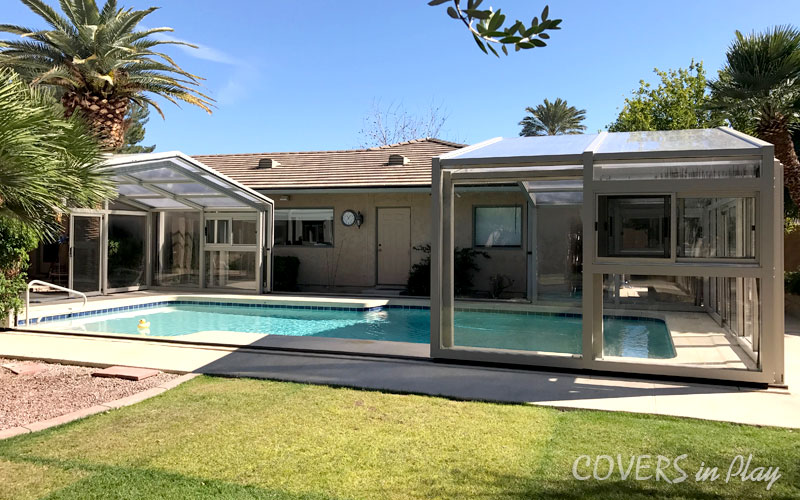 IK- Regina
True Sight Construction was part of the crews that erected the COVERS in Play building. Our duties consisted of assembling and standing the frame, installing the wall and ceiling panels, installing the doors, assembling the sliding assembly. Everything went smoothly when we arrived. All of the materials were already on site when we arrived. Nothing we needed for the building was missing, everything was packaged up and ready for us. When we opened up the materials nothing was damaged and everything was in good condition for us to use.
COVERS in Play provided a very detailed list of tools and equipment that was required for the job. They made it very clear what was needed so it was easy for us to prepare and have everything on site and available to use. The installation for our particular job took just over two weeks. That was what we allotted for in our schedule. The job went very well, the only setbacks we had were only weather related which is common for any job in Saskatchewan.
As for putting up the structure, other than a few weather delays, everything moved along very well. Instructions provided were very clear and easy to follow. Jeff was very easy to work with and made it clear what needed to be done. The building themselves are also very well designed, and once you understand the process for each step it goes together well.
The feature I like most about the building is the drive system that opens and closes the building. It is designed well and moves smoothly. Also, I was surprised how quiet it was. From a building perspective, I also liked how the frames were constructed and then how all the frames went together with the girts and purlins and the rods sliding through to keep everything tight and aligned.
I really enjoyed working on this building. Every piece of the building was cut perfectly and very precise. The frames were very strong and sturdy. Each of the bays sits and rides on the track smoothly. The wall and roof panels seemed durable and I am confident they will withstand even the harshest weather. Additionally, was happy with how COVERS in Play sent the wind bars for the roof panels, which are extra support for the roof panels that prevent uplift in our windy climate.
Our overall experience with COVERS in Play was great. I would recommend the COVERS in Play system to my clients because they are a well designed, sturdy structure that I am confident will stand the test of time. Also the buildings are visually appealing.