Retractable Pool Enclosures -
Features
All pool enclosures are not created equal. Covers in Play enclosures are the most modern, state of the art architectural product of its kind. They are the only electrically operated, automatic, fully retractable pool enclosure system in the world.
Covers in Play Pool Enclosures have been designed with the features in mind - not as an afterthought. The patented aluminum extrusion assembly design streamlines structural dimensions so that a lean, clean look is achieved without the use of additional trusses and supports. There are no structural members left obscuring the openings when retracted. 100% open air above the area opened.
Lightweight aluminum extrusions, clear acrylic side wall vision panels and twinwall polycarbonate roof panels are fabricated with stainless steel hardware into a series of panels which form moveable bays. The bays are dimensioned to slide under one another, nesting together at one end of the pool enclosure. Or, they can be configured to open toward both ends if desired. The side walls and end walls can incorporate any number of windows and doors as may be desired. An enclosure can be built to attach to a building or made to be free standing, if desired. Lean to style as well. Fixed or operable. It can also be configured as an operable roof or skylite.
Unlike older manual systems, the Covers in Play enclosure system has been specifically designed with an electric, automatic retraction system. Older manual systems need to be pushed by hand, usually with two people, one on either side of the telescopic pool enclosure, to open and close them. They require each bay to be moved individually and can be very difficult, as well as usually taking 10 to 15 minutes or so, depending on the size and number of bays. Overcoming these drawbacks with Covers in Play automation, operable retractable pool enclosures can now be configured with larger operable bays. Smooth quiet retraction movement is achieved with a patented electric retraction system. The maintenance free system operates with tracks installed flush with the deck, without risk of tripping hazard. The switching is designed for failsafe operation to prevent damage or injury should a pet, person or other object approach the track area when in operation. Moving at approximately 20 feet per minute, the entire enclosure can be effortlessly opened or closed in two or three minutes, depending on the size.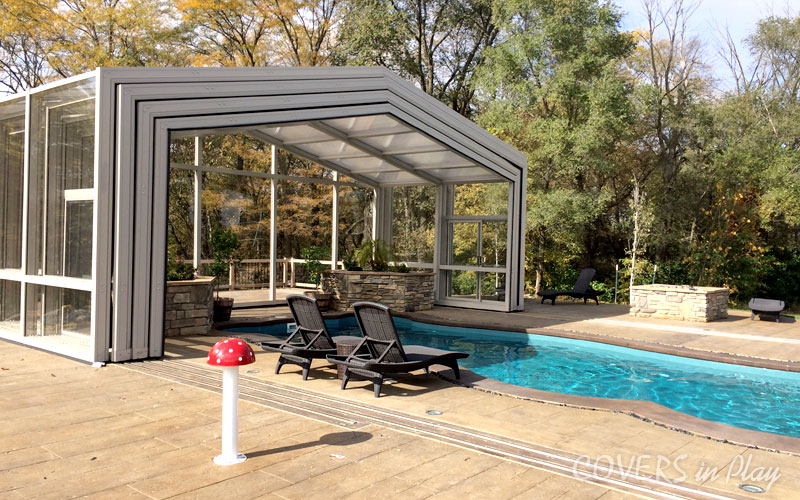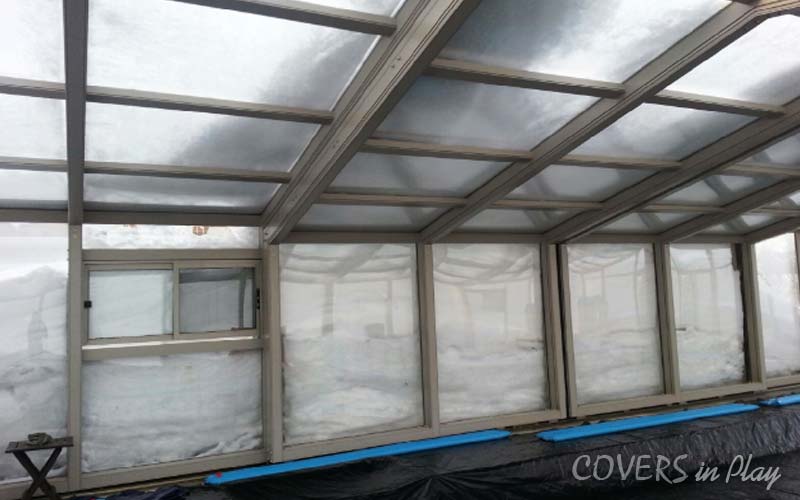 The system has been specifically designed to enclose an outdoor indoor pool, as well as patios and practically any outdoor area and there is nothing in the system that will rust, mould, corrode or rot, so that no dehumidification system is required. Structurally, it has been specifically designed for the worst possible winter snow loads and wind loads. The enclosures are designed and built for each installation location and are designed to stand up to well over 100 mph winds where required. And unlike the other systems out there, where snow is required to be removed by the owner, the Covers in Play pool enclosure system will withstand any snow load. No snow removal is required. Never. And every Covers in Play enclosure comes with a site specific 20 year warranty.
An overriding feature, built into all Covers in Play retractable enclosures is the practical system of quality manufacturing, assembly and installation employed. Every enclosure is completely pre-manufactured in our plant. Everything is completely cut, punched, notched, holes are drilled. There is no cutting of metal frame members on site. No metal shavings, no mess on site. The system has been designed for fast, easy assembly on site and as a result usually smaller units can be assembled in a matter of days, usually only about a week or so, depending on size and complexity of the enclosure.
Covers in Play has designed an operable telescopic pool enclosure system based on how an enclosure would be used, how many times it could be opened or closed in a day, electrically, with clear unobstructed views for year round use and enjoyment of the area enclosed. It has also been designed in consideration of where the enclosures would be installed, whether in warmer climates or in colder snowy locations with a lot of snow, and of course also for windy locations with higher design load requirements. Below are listed features that are unique to Covers in Play and can only be found in our enclosures:
Patented Motorized Pool Enclosure Drive System
Innovative framing system which eliminates need for cross – bracing
Standard 80" minimum wall height- can be any height, if desired
Tempered glass sliding doors and windows with screens and locks available
Premium quality architectural paint
Double weather seals at all glazing
Double weather seals between moving bays
CIP pool enclosures are impervious to the humid pool environment - nothing to rust, mould, corrode or rot
Patented Framing making it the strongest in the industry for high snow or wind loads
Please see Design
for more detailed information about the standard features listed above along with other information about the design of our pool, spa and patio enclosures, or restaurant enclosures.
If you require further information, please contact us
.