Retractable Pool Enclosures -
Features
All pool enclosures are not created equal. Covers in Play enclosures are the most current, architectural products of its kind in the world. They are the only electrically operated, automatic, fully retractable pool enclosure system in the world.
Covers in Play Pool Enclosures have been designed with the features in mind - not as an afterthought. The patented aluminum extrusion assembly design streamlines structural dimensions so that a lean, clean look is achieved without the use of additional trusses and supports. There are no structural members left obscuring the openings when retracted. 100% open air above the area opened.
Lightweight extrusions, clear acrylic side wall panels and twin wall polycarbonate roof panels are assembled with stainless steel components and hardware into an array of panels which form moving bays. The bays are dimensioned to slide under one another, nesting together at one end of the pool enclosure. Or, they can be made to open towards each end. The end and side end walls can include any number of doors and windows as may be required. An enclosure can be free standing or built to attach to a building, if desired. Lean-to style as well. Operable or fixed. Also, can be configured as a skylite or operable roof.
Unlike older manual systems, the Covers in Play enclosure system has been specifically designed with an electric, automatic retraction system. Older manual systems need to be pushed by hand, usually with two people, one on either side of the telescopic pool enclosure, to open and close them. They require each bay to be moved individually and can be very difficult, and usually taking 10 to 15 minutes or so, depending on the size and number of bays. Overcoming these drawbacks with Covers in Play automation, operable retractable pool enclosures can now be configured with larger operable bays. Smooth quiet retraction motion is obtained with our patented retraction system. The free maintenance system operates with recessed tracks installed on the deck, without the hazard of tripping. The switching is made for safe operation in preventing damage or injury should an object, a person or pet in the track area when operating. Moving at approximately 20 feet per minute, the entire enclosure can be effortlessly opened or closed in two or three minutes, depending on the size.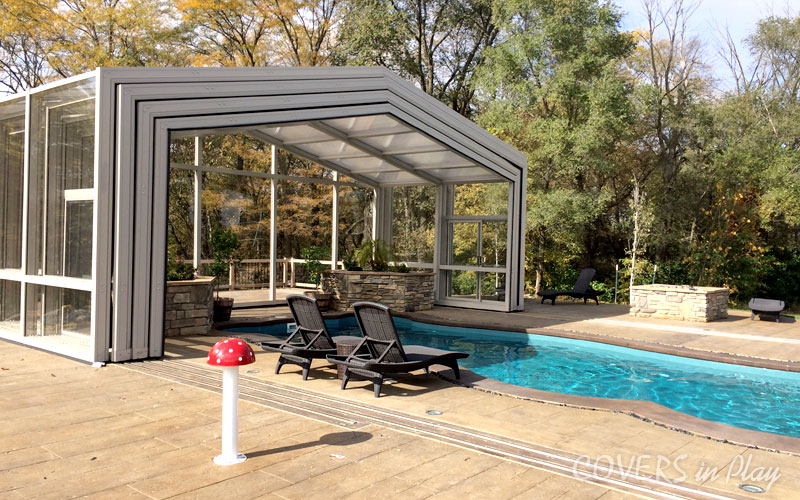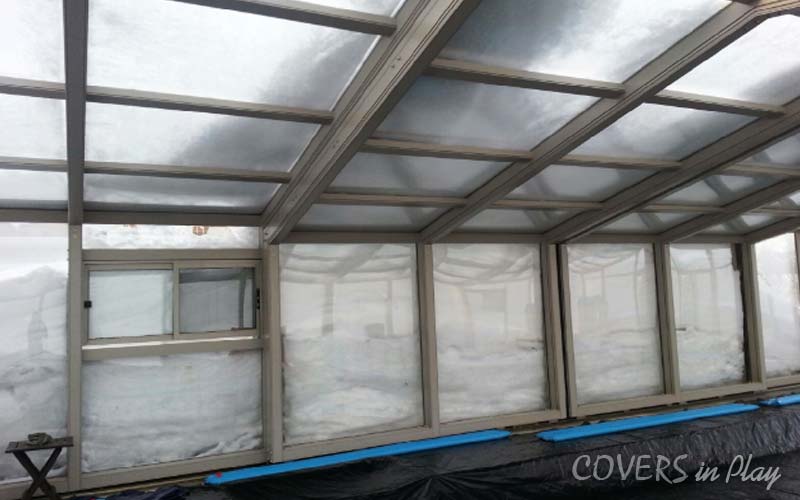 The system has been specifically designed to enclose an outdoor indoor swimming pool, as well as patios and practically any outdoor area and there is nothing in the system that will rust, mould, corrode or rot, so that no dehumidification system is required. Structurally, it has been specifically designed for the worst possible winter snow loads and wind loads. The enclosures are designed and built for each installation location and are designed to stand up to well over 100 mph winds where required. And unlike the other systems out there, where snow is required to be removed by the owner, the Covers in Play pool enclosure system will withstand any snow load. No snow removal is required. Never. And every Covers in Play enclosure comes with a site specific 20 year warranty.
An overriding feature, built into all Covers in Play retractable enclosures is the practical system of quality manufacturing, assembly and installation employed. Every enclosure is completely pre-manufactured in our plant. Everything is completely cut, punched, notched, holes are drilled. There is no cutting of metal frame members on site. No metal shavings, no mess on site. The system has been designed for fast, easy assembly on site and as a result usually smaller units can be assembled in a matter of days, usually only about a week or so, depending on size and complexity of the enclosure.
Covers in Play has designed an operable telescopic pool enclosure system based on how an enclosure would be used, how many times it could be opened or closed in a day, electrically, with clear unobstructed views for year round use and enjoyment of the area enclosed. It has also been designed in consideration of where the enclosures would be installed, whether in warmer climates or in colder snowy locations with a lot of snow, and of course also for windy locations with higher design load requirements. Below are listed features that are unique to Covers in Play and can only be found in our enclosures:
Patented Motorized Pool Enclosure Drive System
Innovative framing system which eliminates need for cross – bracing
Standard 80" minimum wall height- can be any height, if desired
Tempered glass sliding doors and windows with screens and locks available
Premium quality architectural paint
Double weather seals at all glazing
Double weather seals between moving bays
CIP pool enclosures are impervious to the humid pool environment - nothing to rust, mould, corrode or rot
Patented Framing system making it the toughest in the industry for high wind or snow loads
Please see Design
for more detailed information about the standard features listed above along with other information about the design of our pool, spa and patio enclosures, or restaurant enclosures.
If you require further information, please contact us
.
Frequently Asked Questions
What is a retractable pool enclosure?

Just envision a sunroom or solarium on wheels, Just like a solarium or a sunroom, retractable pool enclosures provides a real indoor setting that feels as if you are outdoors. However, unlike solariums, indoor pools or swim spas, retractable pool enclosures will open up your backyard. You get the best of both worlds!

What are retractable pool enclosures used for?

Typically, retractable swimming pool enclosures are used for swimming pools, spa pools and hot tubs. However, retractable enclosures can be used for more functions such as roofs (roof enclosure), indoor pool for hotels, restaurants (restaurant enclosures), covering patios or decks just like a sunroom or solarium. By connecting the pool enclosure to your home, you create easy direct access to your pool for the colder winter months.

What are the advantages of having a pool enclosure?

Retractable pool and patio enclosures provide the benefit of extending the life and service life of your pool and accessories while reducing maintenance time and costs. A retractable enclosure will also do the following: Extend your exercise and entertainment area for all four seasons.
Provide exposure to the warmth of the sun without the harmful effects of UV rays
Provide protection from irritating bugs and insects or even animals similar to a screen pool enclosure but even better And there are even more benefits !

How do retractable pool enclosures work?

Retractable enclosures also know as telescopic pool enclosures are composed of individual bays, which are telescopic so they retract, one inside the other. Each bay has it's own wheels which are mounted on a track system, guiding each section as it opens and closes. The enclosure can be opened fully or partially. An automated drive system handles the physical movement of the enclosure.

Can pool enclosures be used all year round?

Yes! Even on cloudy days, the enclosure will trap solar energy. Just like sunrooms the enclosure can increase air temperature by 10-20°C/18-36°F when fully closed. If you have a heated pool or swim spa the heated water will also provide an additional source of heat. In most cases, the heat from the sun and the water will keep the enclosure at a comfortable temperature. In northern areas with more severe winters we can provide additional heat sources using our hydronic floor design and air handlers.

How do I open the retractable pool enclosure?

Our enclosures are built with an automated drive system. Simply push a button and the enclosure will open easily! A large enclosure will fully open within minutes.

Can retractable pool enclosures go over an existing swimming pool or patio?

Yes, you can almost always put an enclosure over an existing inground swimming pool or patio creating outdoor pool enclosures when open and indoor pool enclosures when closed. Please contact us to discuss the details for your site.

How long does it take to order and install an enclosure?

This will depend primarily on the size of the enclosure. As a general guideline, it will take approximately 8-12 weeks once the permit is approved until your enclosure is installed and operational. The installation itself represents approximately 10 to 15 days of this time period depending on the model.