Pool Enclosures - Architectural Guidelines
COVERS in Play builds the world's most modern, state of the art, automatic retractable enclosure systems, specifically for the extremes of our climate. The system is designed with the strength and durability required to withstand hurricane winds and the heaviest snowloads, while maintaining a graceful aesthetic architecture. Our enclosure systems have been specifically designed to allow for year round use of the area enclosed. COVERS in Play enclosures can be built over outdoor spaces for swimming pools, patios, restaurants, event venues and even rooftop areas if desired for commercial applications.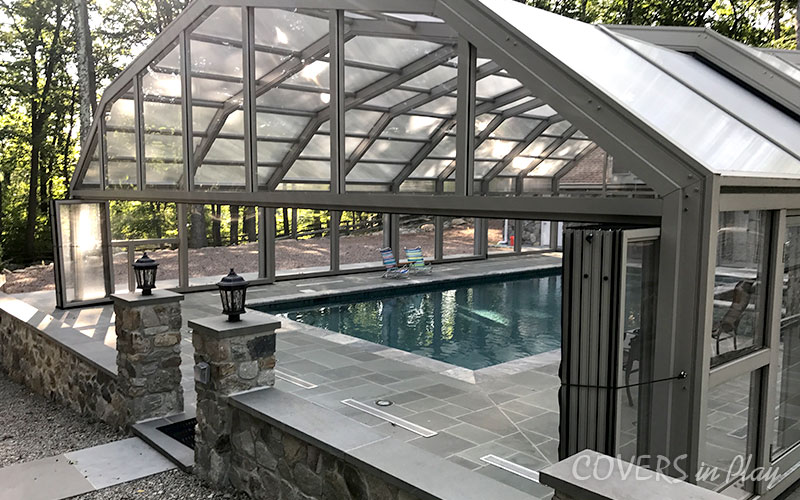 Fixed or Retractable Pool Enclosure and Retractable Roofs, Architectural Profiles
Single Peak retractable roofs, custom pool enclosures or patio enclosures are designed with a gable roof profile
Triple Peak enclosures are designed with a gambrel roof profile
Multi Peak enclosures have a modified bowstring roof profile
Any of the above roof profiles can be incorporated into Lean-to style retractable roofs, heated pool enclosures or patio enclosures installed against the side of a building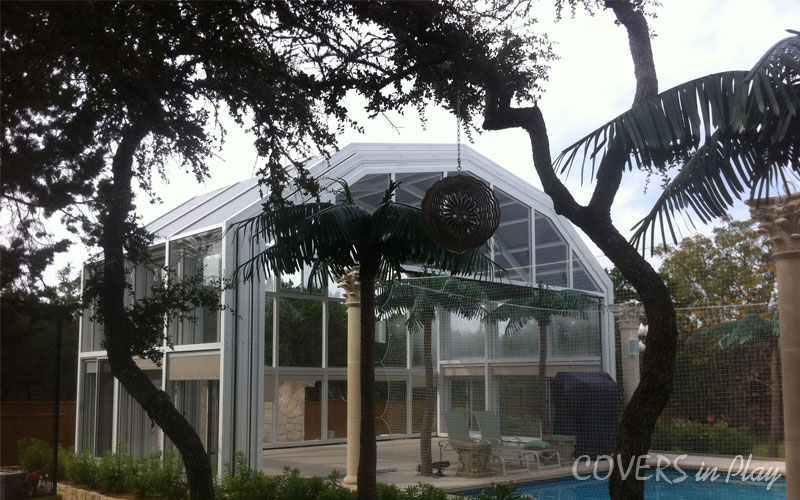 Applications and Styles for Pool Enclosures
Lightweight aluminum extrusions, clear acrylic side wall vision panels and twinwall polycarbonate roof panels are fabricated with stainless steel hardware into a series of panels which form moveable bays. The bays are dimensioned to slide under one another, nesting together at one end of the enclosure. Or, they can be configured to open from the middle toward both ends if desired. The side walls and end walls can incorporate any number of windows and doors as may be desired. An enclosure can be built to attach to a building or made to be free standing, if desired. Lean to style as well. Fixed or operable. It can also be configured as an operable roof or skylite.
Free standing or attached to an existing or new building
Fixed structures or retractable pool enclosures or patio enclosures with telescoping bays
Can be retracted from the middle both ways or it can slide all in one direction to stack up at one end
Can retract into or over an existing or new building, if desired to be out of sight
Commercial pool enclosures can be designed for specific site requirements with a combination of fixed or retractable sections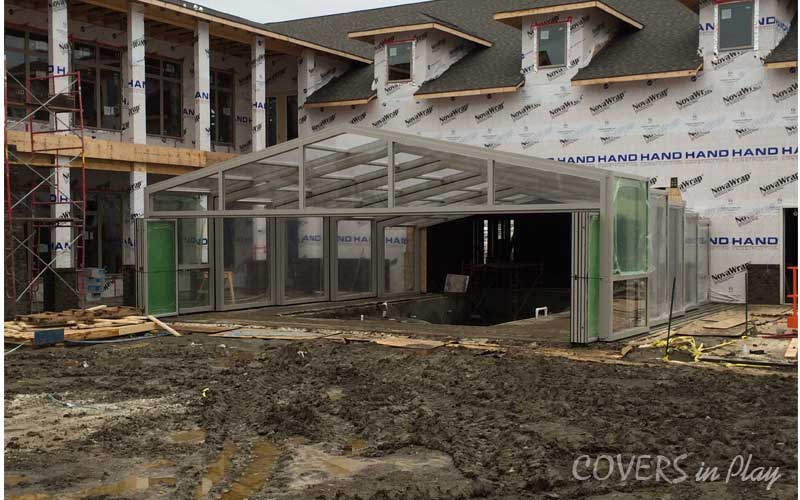 Enclosure Structural Durability
The patented COVERS in Play retractable pool enclosure systems have been designed as a elegant, light weight, thermally efficient automatic retractable system, giving maximum uncluttered outdoor views of the exterior without trusses, webs, cross beams and additional supports for long spans. The result of this patented framing system is larger clear vision field and end walls with a slender design, that is light enough for flowing retraction movement and still give the required strength for the toughest of load requirements for any local Building Code.
Any wall height can be accommodated
Patented structural design, includes concealed stainless steel rods, preloading the pool enclosure structure to withstand any snow loads and wind loads in North America
Patented framing system allows up to 80" daylight openings between structural frame supports
No cross – bracing or other structural supports needed
Unique joint assembly - no hammering or forcing the framing system together
Architectural baked on paint finishes meets or exceed the AAMA (American Architectural Manufacturers Association) 2605 specification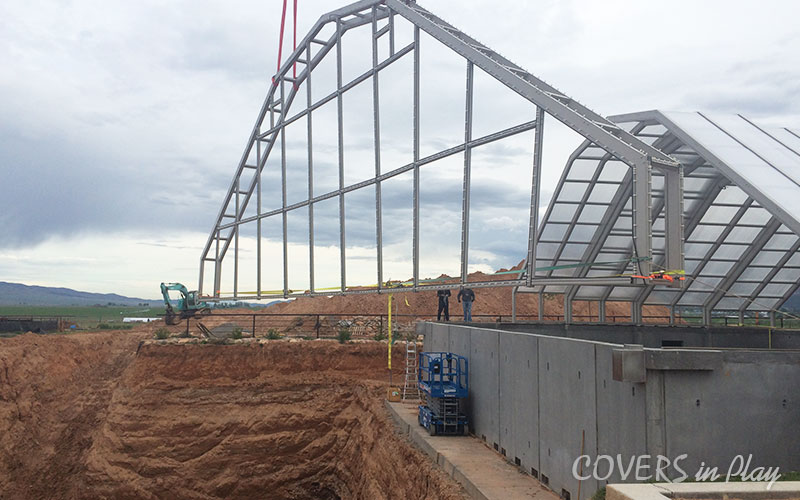 Automatic Drive System for Pool Enclosures or Retractable Roofs
Smooth quiet retraction movement is achieved with a patented electric retraction system. The maintenance free system operates with tracks installed flush with the deck, without risk of tripping hazard. The switching is designed for failsafe operation to prevent damage or injury should a pet, person or other object be in the track area when in operation.
Patented automatic drive system with reduction gear motors, typically up to 30 Amps, 220V Single-Phase
Line of site, push button controls with security and safety key requirement for operation
Automatic drive system for small or large applications for residential or commercial locations
For large retractable commercial applications dual control systems can be implemented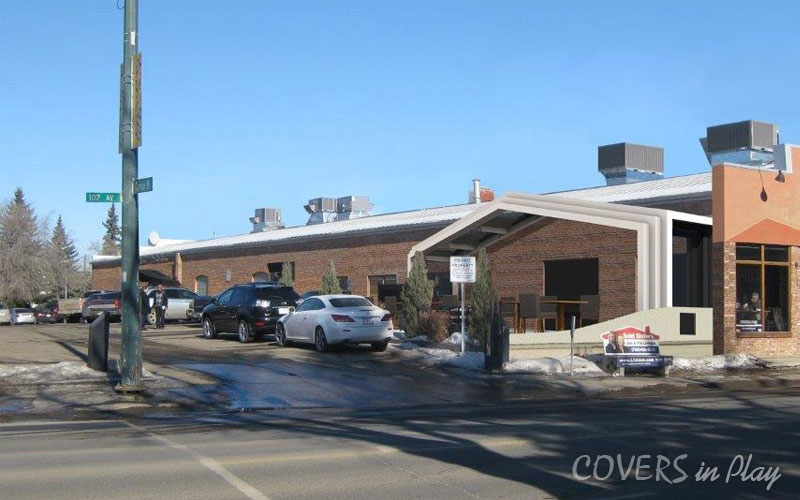 Structural Foundations and Building Interfaces Required
The system is specifically engineered, designed and manufactured for each project and site conditions. Structural foundations designed to meet local building code requirements are required for stability of the patented electric retraction system's tracks ensuring the integrity and life of the system. COVERS in Play provides design load details, electrical and dimensional requirements.
Concrete slab finish FF 140 and FL 100
Drains required at the bottom of the drive motor pits, pulley pits and end of tracks
Typical 12" grade beam foundation with 12" Sono tube or foundation frost wall
Engineered structural steel building interfaces or subframing can also be accommodated
Structural steel supports when required are hot dipped galvanized and painted to match enclosure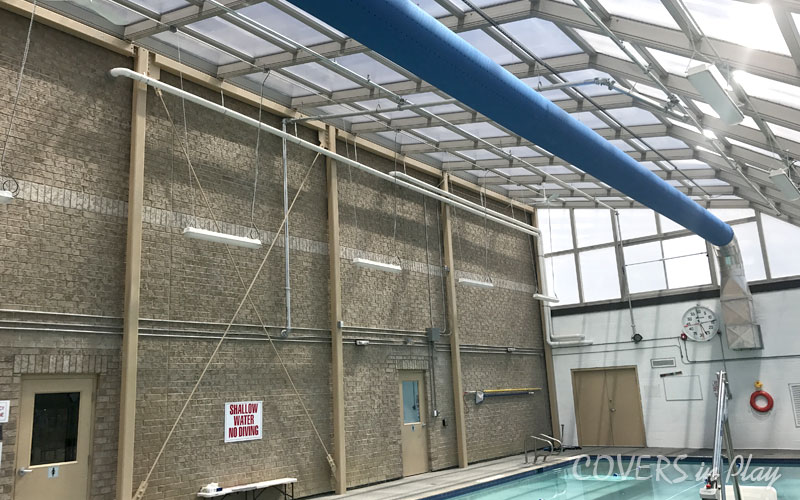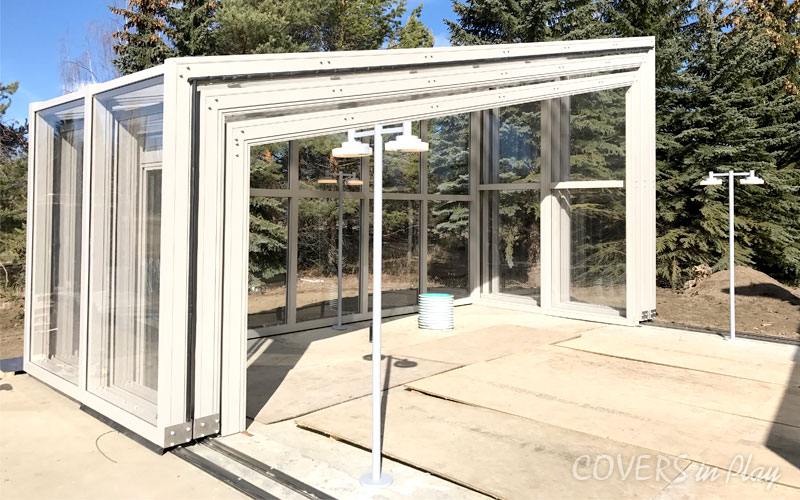 Doors and Windows
The system can include any number of man doors, sliding glass doors with flyscreens and horizontal sliding windows with flysecreens, positioned as per customer's requirements.
Standard sliding doors with option of double sliding doors OXXO up to 16'
Full width bi-folding doors with continuous vertical seal
Hinged man doors for easy exit and entry
Any style of windows or skylites in any location in the structure can be accommodated
Automatic electric actuators can also be installed to open or close windows for residential or commercial pool enclosures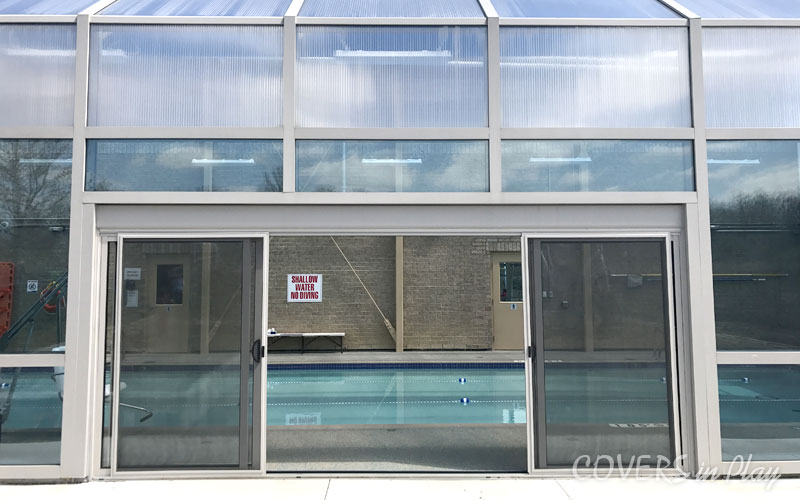 Enclosure Glazing
Patented aluminum extrusion assembly design streamlines structural dimensions so that a lean, clean look is achieved without the use of additional trusses and supports. There are no structural members left obscuring the openings when retracted. 100% open air above the area opened.
No cross-bracing in the framing provides wide unobstructed views
Standard 10mm twin wall polycarbonate panels for pool enclosure roof, up to 25mm also available
Standard clear acrylic wall panels
Options available include tinted and opaque thermoplastics, glass, insulated panels, etc..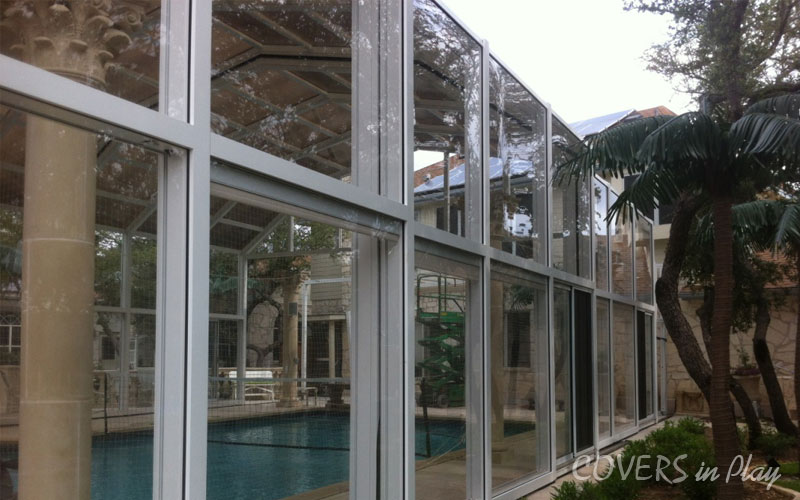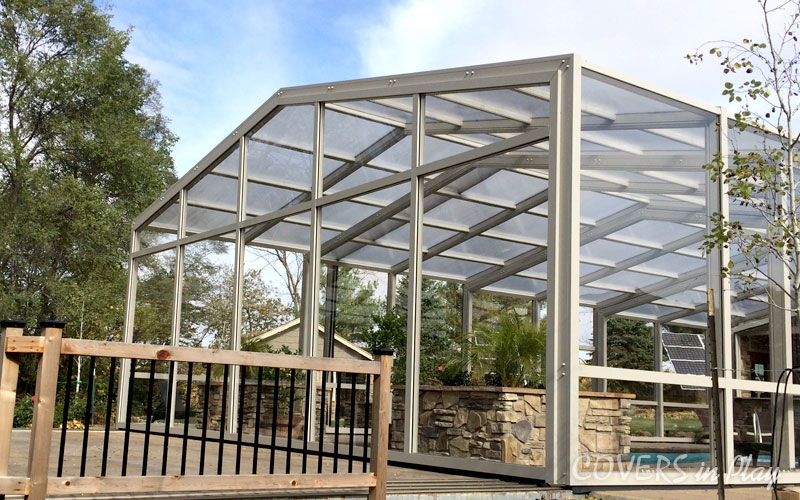 Retractable Pool Enclosure Features
All framing and components, stainless-steel fasteners, synthetic weather seals, baked on paint finish, etc., have been designed and selected for outdoor, exposed, humid environmental conditions. Nothing will rust corrode, mould or rot. No de-humidification is required for the structure.
Double weather seals at all interfaces between telescoping bays allow for year round use of the enclosure, even during peak winter conditions
Low profile track system designed for embedded installation eliminating trip hazards for traffic areas
Wtih Solar heat gain the heated pool enclosure allows for extended seasonal use of the area with minimal heating cost and with the installation of a heating system the area can be used year round
Enclosure and Retractable Roofs Installation
The

COVERS

in Play

patented framing system provides larger clear vision areas and end walls with slender support design, light enough for fluid retraction movement and still the required strength for the most stringent of load requirements for local Building Code compliance
Our custom pool enclosure systems have been explicity designed to be pre-manufactured at the factory so that fast simple assembly can be achieved at the installation site, usually within a week or so, depending on size and complexity of design.
Some components are partially assembled when delivered, while the framing and glazing materials are shipped knock down on securely wrapped skids for transport and short term storage
Assembly by local personnel overseen by on-site qualified

COVERS

in Play

personnel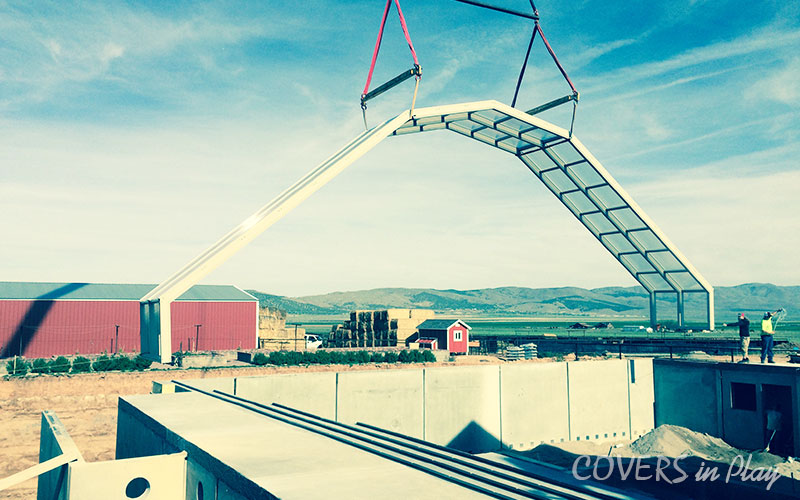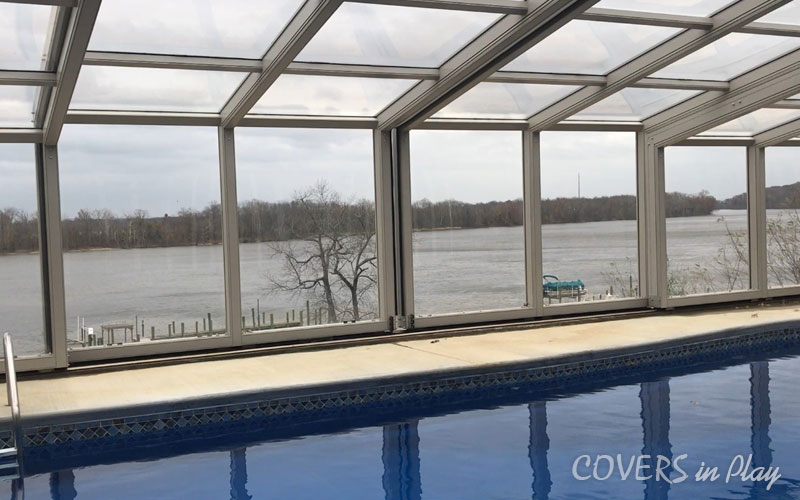 Modular Concept for Larger Installations
The concept model illustrated here shows a square shaped building footprint. The COVERS in Play above ground pool enclosure system can be made in almost any configuration. Square or rectangular is optimum for manufacture and installation; however L-shaped, or other configurations can also be accommodated.
This modular concept illustrates 12 foot high side walls with triple peak roof profiles. 12 foot high elevated beams support central roof systems which can be opened and closed independently or simultaneously with both sides when operating. Number and sizes of modules can be designed according to client requirements and site conditions. Same with overall dimensions, overall heights, spacing of beams, spacing of columns, exterior windows and doors, etc..
This concept illustrates 50% of the area exposed to the outdoors when opened. The system can be designed to have as many operational bays as desired, meaning that a much larger percentage of open area is possible, if desired. Operational bays may move more to one end if desired. The system is entirely custom made and engineered for each installation, allowing for more imaginative concepts to be realized.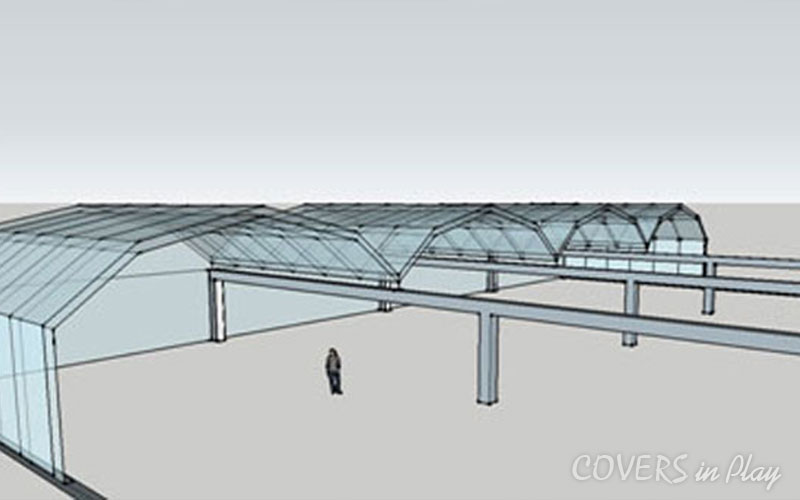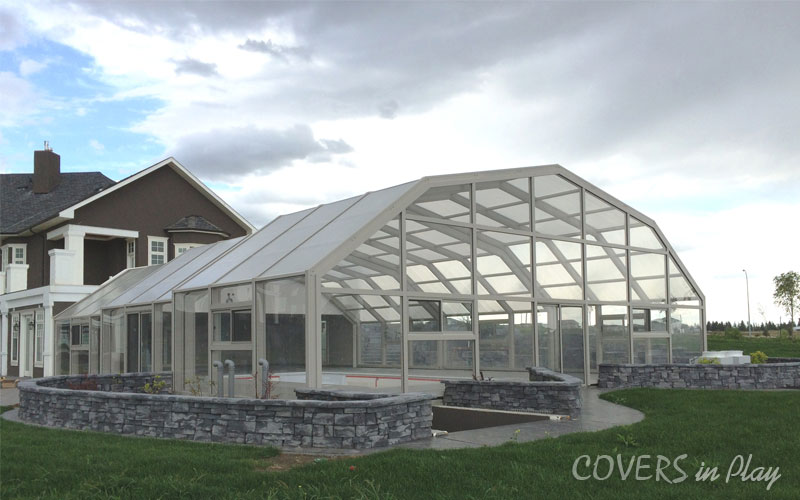 Retractable Clean Room Enclosures
COVERS in Play enclosures have been designed for use as environmental clean rooms to control the internal environment for sanitary climate control. Any size room can be built to accommodate manufacturing and assembly of sensitive equipment or machinery, pharmaceutical products or scientific research creating a localized environment where environmental pollutants such as airborne microbes, dust, chemical vapors and aerosol particles are to be eliminated. Clean food processing and packaging areas, medical or any other spaces where isolated environmental control is required can be created with bright, open, line of sight inspection areas, work stations and operational flexibility for the end users. When the clean room enclosure is closed positive air pressure can be maintained over long periods of time or indefinitely with HEPA or ULPA filtered air cleaned of any unwanted contaminants.
When required after the manufacture or assembly of medical, aerospace or other large sensitive equipment or processes, the industrial clean room enclosure can be opened completely with the bays moving apart to allow the removal and/or replacement with overhead cranes or other equipment depending on the application. Fast and easy removal of waste, cleanup and switch-out and re-tooling can greatly enhance the clean room efficiency, overall costs and experience for the operator/owner of the clean room.